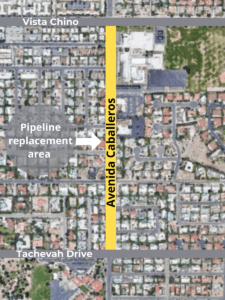 The 2020 Pipeline Replacement Project targeted Avenida Caballeros between Tachevah Drive and Vista Chino.
This project started in July 2020 and lasted through January 2021. Steel pipeline installed in 1949 was replaced with ductile iron.
While we understand that the installation of new water facilities causes an inconvenience, it is an essential part our responsibility to provide clean, reliable water to you and your neighbors.
For more information on the Pipeline Replacement Project email (ashley@dwa.org) or call (760) 323-4971, ext. 184.