Why is hot water coming out even if I turn the cold spigot?
The sun heats the ground, pipes and the water in them. The less water used in an area, the worse the problem can be (cul de sacs, streets with few yearround residents). This is part of life in the desert.
To help, you can run water at your sink for about a minute to clear the water from your home's plumbing, which is probably warmer than the water in our system. You can also put a pitcher in the refrigerator for drinking.
What is eBilling?
Many customers receive their bills via email instead of getting paper copies sent to them each month. That is what we call eBilling. The customers who choose this option get the bill sooner and can still pay any way they'd like, including: autopay, echeck, credit/debit card, paper check or cash.
To sign up for DWA's eBilling, visit www.myDWA.org.
To learn more about our payment options, click here.
When is my bill due?
Your due date is printed on each bill that you receive. It is generally considered past due if it is not paid within 30 days of the meter read date.
Where is my water meter?
Your water meter is located close to the street somewhere on the perimeter of your property. It is usually under a concrete lid in the ground or in the sidewalk. You may need a screwdriver to help you open the lid.
Many customers also have a control valve that they can use to shut the water off, if needed.
How do I turn my water off for a repair?
Find your customer control valve, which should be located between your meter and your home. Turn the lever 90 degrees to shut the valve. Do not make any adjustments to the meter itself. If you tamper with your meter, you will be charged.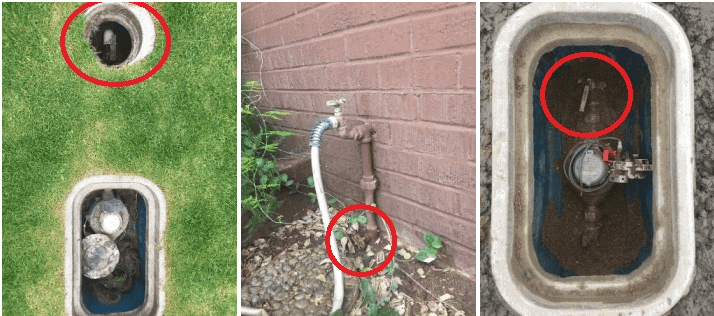 If you do not have a shut-off valve, contact DWA to turn your water off.
If you want to install a new control valve, contact DWA to shut your water off before the installation.
When is my meter read?
Meters are read once a month. Your meter is usually read about the same time each month. The read date is listed on each bill.
I have a high bill. Is my meter broken?
Water meters actually run slower or not at all when they age or break. For most customers a high bill is a sign of a leak or excess water used for irrigation.
If you sign up for eBilling at myDWA.org you can look at your historical usage to determine if a bill is in line with that same month of previous years. If not, you should check your property for leaks using our step by step instructions or helpful leak check video.
Why am I being charged a $25 late fee?
Starting in July 2017, DWA began charging customers a $25 fee for bills paid more than 7 calendar days past the due date. The policy aims to reduce DWA resources spent on collection and encourage on-time payment.
You may want to consider signing up for autopay to avoid late fees. If you're a customer with a good record of on-time payments, we may be able to waive the fee one time. Please call our office, 760-323-4971.
When am I allowed to water?
The Desert Water Agency (DWA) Board of Directors on Tuesday, June 7, 2022 adopted new water restrictions to comply with State Water Board emergency regulations and help with the statewide drought. 
They include no spray/sprinkler irrigation during daylight hours (leak checks are okay – please use a cone). You are allowed to water before sunrise and/or after sunset. 
The State also has a prohibition on certain types of properties watering "non-functional turf" – please review the State FAQ.
DWA will still issue citations for water waste observed by our team. Waste includes watering so much it runs off of landscape area, washing down sidewalks/driveways/patios, watering during rain, etc.
For more information, visit our restrictions page.
My water pressure is too low/high. Can DWA change it?
The water pressure that the Agency provides is based on two factors: the elevation of the reservoir that serves your property and the elevation of your property. It is not something DWA changes. If your pressure is too high, you can install a pressure regulator on your home to reduce the pressure.
To learn more about pressure in our system, visit our water pressure page. You can also send us an email to find out the normal water pressure in the area where your home is located – it varies widely throughout our service area.
Why does my water look cloudy when it comes out of the tap?
In order to get water to your home, DWA has a pressurized system. The cloudy appearance is simply air bubbles. If you let the water sit for 30-60 seconds, you should see the bubbles rise from the bottom to the top of the glass and dissipate.
Why does sand come out when I turn on hot water?
A sand-like substance in water when hot water is turned on is usually a calcium buildup in your hot water heater. We suggest that you flush your hot water heater if the buildup becomes noticable. Here is a
link to a video
that may be helpful if you plan to flush your water heater. Please consult a professional plumber if needed.
Why does our water cause white buildup on faucets, glasses, etc?
Most of the water we serve is high mineral content – some people refer to it as hard water. This is typical for systems that rely on groundwater. Many of the minerals in the water are things you would find in vitamins. The white buildup you see is likely calcium and/or magnesium. It can usually be removed with vinegar.
View our water quality report for more information or the Water Research Center's informational page on water hardness .
How can I apply for a job?
You can visit our
careers page
for information about current openings.
We always accept applications for the following positions:
Account clerk/telephone operator (office/clerical)
Meter reader (field customer service)
Water service worker (construction labor)

DWA keeps applications on file for one year. Applicants will not hear from DWA unless they are submitting for a position that is actively being recruited/is open.

Please do not call our office about job inquiries. Our Human Resources Manager's email address is HRmanager@dwa.org.
When does DWA's Board of Directors meet?
The Board of Directors has meetings scheduled the first and third Tuesday of every month at 8AM at our offices (1200 Gene Autry Trail in Palm Springs). Check
our calendar
for meeting materials and notices.
How do I report water waste?
Use the water waste form on our website
Call our office at 760-323-4971 during or after business hours
DWA does not share information about the person making the report to those that are reported.
If you see water coming up from the asphalt, please contact DWA as there may be a pipeline leak that we need to repair.
Does DWA offer rebates and incentives?
Yes! Desert Water Agency offers a variety of rebates, incentives and conservation coupons.
Learn more by visiting the following pages: 
I have a leak at my house, whose responsibility is it?
Everything from the street to your meter is maintained by Desert Water Agency. From the other side of the meter, all piping and irrigation material is the customer or property owner's responsibility.
DWA cannot refund or reimburse customers for water used inadvertently due to leaks. As a not-for-profit public agency, we have to recover our costs.
Why does Desert Water Agency appear on my property tax bill?
The tax amount is $0.10 per 100 in assessed value of your property. You may pay this tax even if Desert Water Agency isn't your water provider.
This is because bringing water to the region enhances property value. That amount helps pay for our community's share of the fixed costs on the State Water Project, which helps bring imported water to our region. To learn more click here. To learn more about our imported water, see "Imported Water."
Do I need to flush my pipes after being gone for a while?
Yes. We urge returning seasonal residents or anyone with plumbing that hasn't been used for a while to run cold water through their faucets for several minutes before drinking or using for other typical purposes. Water sitting still in pipes for extended periods can build up microbes or mold and become discolored. This clears out water that has been sitting stagnant in pipes on private property and brings in the clean water that is in the public system.