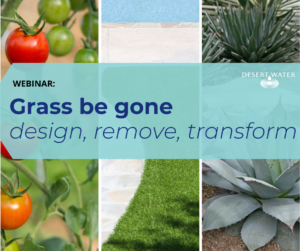 Fall is the perfect time for a yard makeover.
If you've been thinking about getting rid of your grassy lawn and replacing it with something more water efficient – we will show you how.
Desert Water Agency will host a webinar from noon to 1:30 p.m. on Oct. 27 called "Grass be gone – design, remove, transform" that shares the various steps involved in creating a desert friendly lawn.
Expert panelists will discuss:
Landscape design
Grass removal
Vegetable gardening
Artificial turf
Desert landscaping
DWA will also highlight its grass removal incentive program that pays you to remove grass.
Register here for the webinar: https://bit.ly/3iIPmdy
For more information, send e-mail to Outreach@dwa.org or call (760) 323-4971 ext. 272.