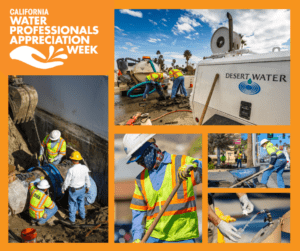 The fourth annual California Water Professionals Appreciation Week is Oct. 3-11.
The California Legislature in 2017 recognized this week to highlight the important role all water district employees play in delivering safe and reliable water to homes and businesses across the state.
Thanks, water pros!
This is also a good time to think about a career in water and wastewater services. About 60,000 people work in California's water industry and roughly 6,000 new employees are needed each year due to turnover.
The water industry offers a wide variety of career opportunities.  From engineers and construction crews to lab technicians and meter readers – it takes a dynamic team to make these systems run.
Water agencies need people with specialties in:
accounting
customer service
construction
engineering
information technology
science
human resources
communications
and more!
The work is rewarding because water districts provide a vital resource for the community.
Go to www.dwa.org/careers to check available jobs.