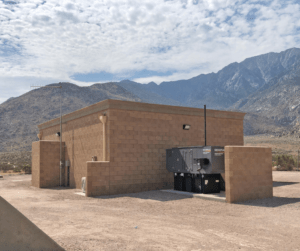 A new filtration plant near Snow Creek Village went online today (Oct. 6) allowing Desert Water Agency to use more local stream water each year.
Most of the water DWA delivers to homes and businesses, we pump from deep underground.
About 5 percent, though, comes from streams which used to be the primary source of water for Palm Springs' first settlers.
DWA has rights to use stream water from Snow Creek, Falls Creek, and Chino Canyon. The new plant will clean and chlorinate water from Falls Creek and Snow Creek for use by Snow Creek Village residents.
The new plant is located next to our Snow Creek Hydroelectric Power Plant along Snow Creek Road, about 3 miles due west of Windy Point.
The project took just over a year to build and is part of DWA's ongoing efforts to provide safe and reliable water for our customers.
For information about our new filtration plant, contact Ashley Metzger at Ashley@dwa.org or 760-323-4971 ext. 184.