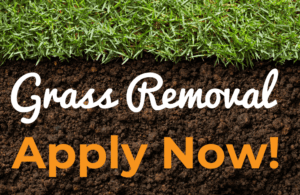 Palm Springs residents and businesses can now get more money to remove their grass and replace it with drought-tolerant landscape.
In addition to DWA's $3 per square foot incentive, the City of Palm Springs will contribute an additional $1 for conversions, for a total of $4 per square foot. The City of Palm Springs approved $1.15 million for the program this fiscal year.
The additional funds are available for Desert Water Agency customers within Palm Springs city limits.
This funding went live on July 24, 2023. Applications received before that are still eligible for $3 from DWA, but not the extra $1 from the City. Applicants need not apply separately to the City and will receive one check from Desert Water Agency.
To apply go to www.dwa.org/grass and click on "grass removal".
With more than 70 percent of the water in the Coachella Valley being used outdoors, removing grass is a great way for a property owner to save water. Converting water-intensive grass areas can also help save money in the long run with lower water bills.
Grass must be present when applying and cannot be removed until DWA approves the project. You will need to know the square footage of the area you're applying for and have a recent photo of the area.
If you need help or have questions about funding, send e-mail to conservation@dwa.org.