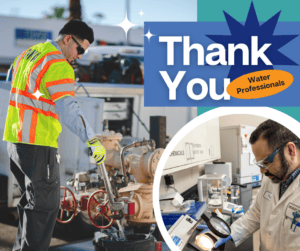 Water is a precious and vital resource. Communities and the economy thrive and grow thanks to the availability of safe and reliable water. It takes a team of experts to make sure water gets to your tap.
Water Professionals Appreciation Week runs from Oct. 7-15. This is the perfect time to thank all the dedicated water employees who make sure water is there when you need it, whether it's taking a bath, flushing your toilet, or irrigating your garden.
The California State Legislature established the designation in 2017 to highlight the important role all water districts have in ensuring safe and reliable water, wastewater, and recycled water.
This is also a great time to consider a job in the water industry.
The water industry provides a plethora of job opportunities for all types of employment-seekers. From engineers who design pipelines and construction crews that maintain and repair pipelines to lab technicians who analyze the water and make sure it meets strict state standards.
Water utility jobs, however, aren't just for people with experience specific to water or water infrastructure.
Water professionals work in accounting, customer service, IT, conservation, and communications. All of these roles are vital to water agency operations.
Public water agency employees are also considered emergency responders. If there is ever a severe earthquake or other disaster, water workers need to jump into action and ensure the water is safe and available.
There are six water agencies in the Coachella Valley. For more information on available water careers at DWA, go to www.dwa.org/careers.  For more information on water jobs valley wide, go to www.cvwatercounts.com/careers