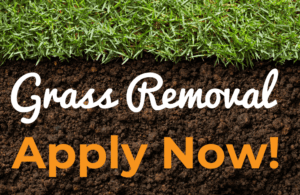 Starting today Palm Springs residents and HOAs can get up to $6 per square foot of grass removed, thanks to generous match funding from the City of Palm Springs.
The City will match DWA's $3 per square foot for grass removal – up to $5,000 per project – for a total of $6 per square foot to convert. Funding is for new applications/projects only and DWA expects limited funds to go quickly.
To apply go to www.dwa.org/grass and click on "grass removal".
Grass removal funds are also available for low-income residents who meet certain requirements – up to $8 per square foot to replace grass with water efficient landscaping.
Those outside of Palm Springs city limits can still access incentive funding at $3 per square foot or $6 per square foot if they meet income and eligibility guidelines.
The average cost to do lawn conversions is about $7 per square foot so these incentives can cover a project depending on material and vendor choices.
The grass removal incentive motivates people to transform their yard to save water. These projects also help customers save money. Participants typically save in the short-term with the incentive and in the long run with lower water bills.
With more than 70 percent of the water in the Coachella Valley being used outdoors, removing grass is a great way for a property owner to save water and reduce their monthly bill.
Grass must be present when applying and cannot be removed until approved. You will need to know the square footage of the area you're applying for and have a recent photo of the area.
CONSIDER APPLYING TODAY so you don't miss out on this limited funding.
For more information or to apply go here: www.dwa.org/grass
If you need help or have questions about how much you could expect in funding, send e-mail to conservation@dwa.org.