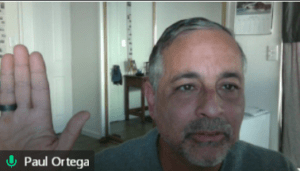 Paul Ortega was sworn in as Desert Water Agency's newest board member on Friday, Dec. 4.  His first official meeting is Dec. 15.
Ortega has lived and worked in Palm Springs since 2002. He helped co-found Desert Horticulture Society and owns a landscape design firm.
The Nov. 3 election was DWA's first election by division. Ortega now represents Division 4 which covers most of central and south Palm Springs. (click here for a division map)
Ortega has a bachelor's degree in International Relations from Stanford University and a master's degree in International Relations and Economics from Johns Hopkins University's School of Advanced International Studies.
He has served on various committees including the City of Palm Springs Architectural Advisory Committee and the Living Desert University Board.  He also volunteers at the Palm Springs Animal Shelter.
In other DWA election news:
Kristin Bloomer was re-elected to a second term on Nov. 3 and will represent Division 5, which covers Cathedral City and part of southeastern Palm Springs.
Craig Ewing did not seek re-election after 13 years on the board. Desert Water Agency's Board and staff are grateful for his service to our community and wish him well in his next adventures.