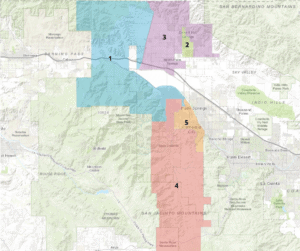 DWA will redraw its Board of Directors electoral division maps based on 2020 Census data and plans to adopt a new map by April 17, 2022. The new map will be used in the Nov. 2022 election.
DWA wants your input on these maps and will hold two virtual public workshops via Zoom to show map drafts and gather feedback.
No registration is required for the workshops. Just click on the link the day of the workshop to join.
You can also draw a map of your own. For detailed instructions on how to create your own map or to provide feedback, send an email to: divisions@dwa.org
Desert Water Agency transitioned from at-large to division elections with the first division election in November 2020. Voters elected two board members at that time for divisions 4 (Director Paul Ortega) and 5 (Director Kristin Bloomer). The second election by division will be held in November of 2022 and will have three open seats.
For more information go to www.dwa.org/divisions