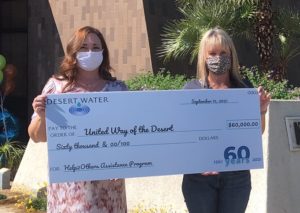 DWA contributed $60,000 to the Help2Others water bill assistance program to help customers pay their water bills and avoid water shut offs. The funding came from non-rate revenue.
The Agency presented United Way of the Desert with a jumbo check for $60,000 on Wednesday, Sept. 15 to mark DWA's 60th Anniversary.
Customers can apply for $200 a year in water bill credits by going to www.dwa.org/h2o and filling out a simple online form. For DWA's average customer, a $200 credit covers about 20% of annual water bill cost.
Since the pandemic started, DWA has been working with financially impacted customers to keep water flowing to homes and businesses.
In just July and August, 79 DWA customers received $14,550 in water bill assistance.  DWA hopes even more customers who are struggling to pay their bills amid the continued pandemic will apply for assistance.
United Way manages the water bill program and can connect customers to other Covid relief efforts as well.
For more information or to apply go to www.dwa.org/h2o