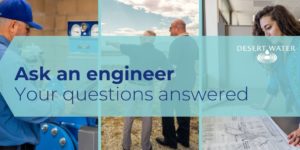 Ever wondered how a well works? How we replenish the aquifer? Or how reservoirs store water?
Get all your water system questions answered during Desert Water Agency's "Ask an engineer" Zoom meeting at 10 a.m. on June 23.
DWA engineers will be on hand to answer all your questions.
Send questions for the meeting ahead of time to Outreach@dwa.org or wait until the event and ask the question yourself.
Register here: https://bit.ly/3gbkPXI
For more information about the meeting call 760-323-4971 ext. 183 or send e-mail to Vicki@dwa.org.