Desert Water Agency's system is made up of about 392 miles of pipeline, but currently, has about 80 miles in need of replacement. This was a major cost driver for the agency and made rate increases unavoidable. We will now be able to generate the funds necessary to help keep our water system healthy. DWA plans to install about 2.75 miles of new pipe a year until at least 2031.
Some of DWA's pipelines were installed before the Great Depression!
Our team has identified the areas in most critical need of replacement and developed a schedule to start replacements. Most of the work will be done in summer months to avoid traffic. We are coordinating with the City of Palm Springs to help reduce project cost and inconvenience for our community.
The 2020 Pipeline Replacement Project will target Avenida Caballeros between Tachevah Drive and Vista Chino.  This project is expected to start in July and last through mid-November.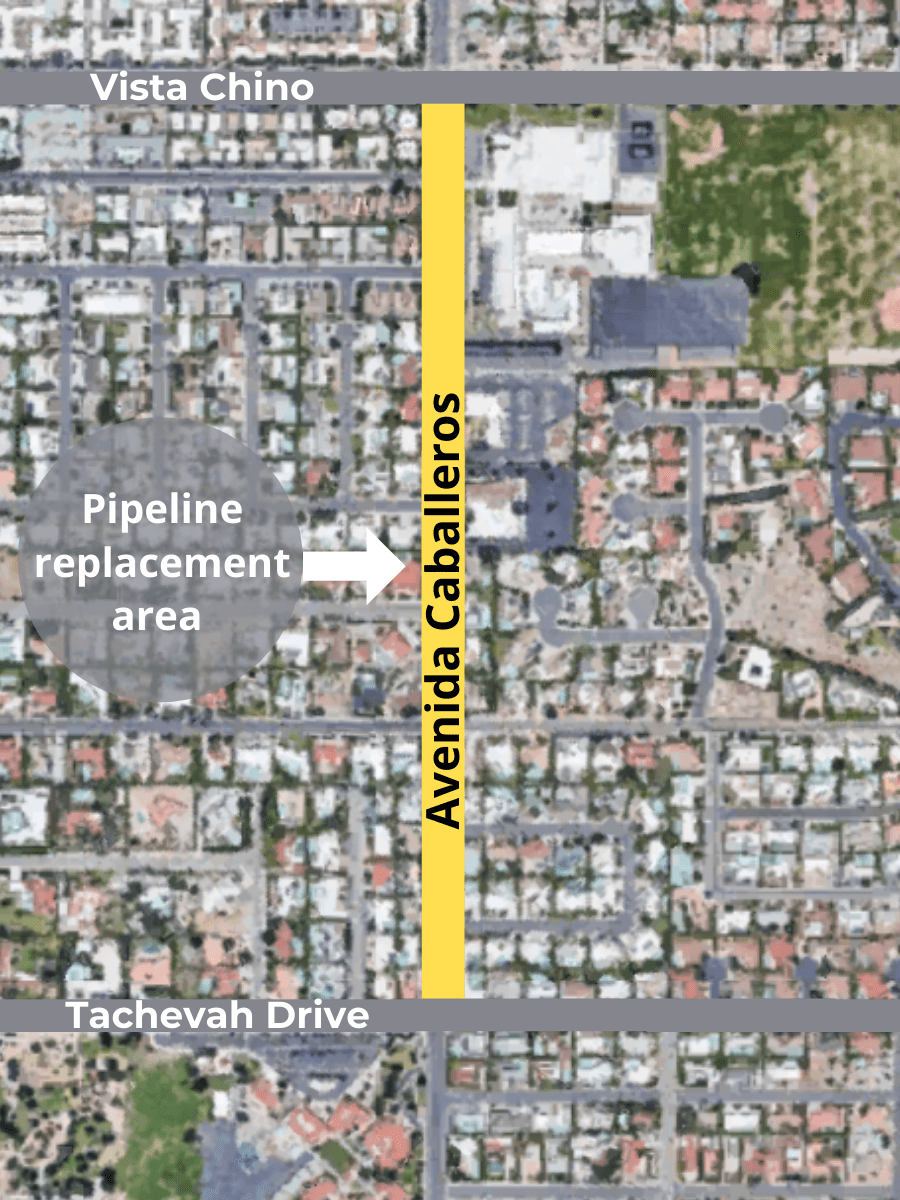 What to expect in that area during construction:
Slowed traffic (lanes reduced) and limited access
Some streets will not accessible from Avenida Caballeros for a limited time (1-2 days)
'No parking signs' posted along the street as necessary
Access to property to remain intact (if we are blocking, we'll happily move upon request)
Noise from construction 7 a.m. to 5 p.m. on weekdays
Equipment and vehicles from Desert Water Agency and its contractors
Temporary paving will be put in place before final paving is done in the fall (likely October)
Water service should remain on except for a few hours for some customers
DWA or its contractors will notify customers if they will experience a water outage
they can expect the water outage
We appreciate your patience. While we understand that the installation of new water facilities causes an inconvenience, it is an essential part our responsibility to provide clean, reliable water to you and your neighbors.
For more information on the 2019 Pipeline Replacement Project email (ashley@dwa.org) or call (760) 323-4971, ext. 184.
Check back for updates.