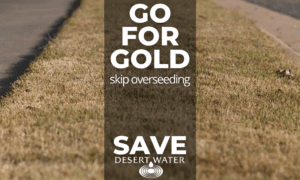 DWA urges customers to skip overseeding this fall to help save water during the statewide drought. Overseeding is the practice of letting the warm-weather Bermuda grass go dormant and seeding with winter rye grass.
It is a very water intensive process, that's why we've always encouraged people to skip it. This year, with Governor Newsom asking all Californian's to reduce their water use, it is even more important.
Current water restrictions prohibit daytime sprinkler use (it is only allowed before sunrise and after sunset)  so you may not be able to even sprout winter grass without watering during the day.
You can let your Bermuda grass go dormant, which means that you continue to water it in the evenings and come January or February it will start to turn golden or brown for about 8 weeks.
Skipping the overseeding process does help conserve water and money. We're proud of our customers – including big HOAs – that have decided to forgo overseeding and we hope to see many more follow suit.
You can also get an incentive to remove your grass! For more information on incentives or overseeding, go to www.dwa.org/overseed
Top 5 Reasons To Skip Overseeding
Doing your part during the California drought matters for our community
You risk a fine if you use sprinklers during the day or spray onto sidewalk/gutter
Landscape labor costs are at an all-time high
Seed prices are up significantly this year
It's difficult for winter grass to sprout without daylight watering