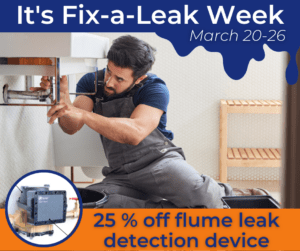 Household leaks can waste almost 1 trillion gallons of water a year nationwide.
During Fix a Leak Week, from March 20-26, let's hunt down leaks and help save water.
DWA has partnered with Flume to provide customers with a $50 discount on the leak detection device. It is normally $199 but you can get it for $149 with our discount – just this week for Fix-A-Leak-Week.
The device attaches to your water meter and alerts your smart phone when it detects a possible leak. These are a good option for people on vacation and those who only live here part of the year.
Finding and fixing leaks is a great way to save water and money and avoid causing damage to your home or property.
The culprit for common leaks are often worn toilet flappers, dripping faucets, old irrigation and other leaking valves. These leaks are often easy to find and fix. But, some are hidden and hard to locate.
Desert Water Agency also has several coupons on its website for leak detection and different DIY home tests you can do to determine whether you have a leak.
For more information on the Flume discount, go to www.flumewater.com/partners/dwa
For more information on how to check for leaks, go to www.dwa.org/leaks