The water pressure that the Agency provides is based on two factors: the elevation of the reservoir that serves your property and the elevation of your property.
Pressure in our water system ranges from 35 to 120 pounds per square inch (psi). The Uniform Plumbing Code requires that a pressure regulator is installed on private plumbing with water pressure of 80 psi or above to help protect the plumbing from high pressure which can cause leaks and possible blowouts. You can use a gauge at your outdoor spigot to check your pressure. You may need to contact a local plumber or irrigation specialist or do some research before installing or replacing a pressure regulator. You may also contact the Agency to find out what the approximate water pressure is for water delivered to your area.
To look up the water pressure DWA serves to your home, click here.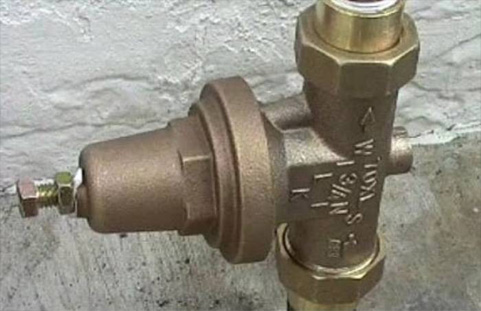 If you already have a regulator and experience a dramatic drop in pressure, you may need to replace your regulator. When a regulator fails, it can be difficult for the water to move through the device, which may lead to a drop in pressure.
For guidance on how to check your pressure using a pressure gauge, click here.