Leaks, if left unchecked,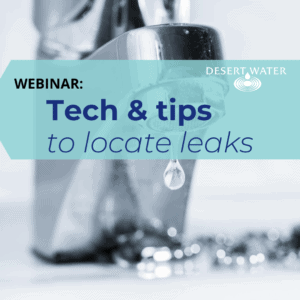 can cause extensive damage and excessive water use.
Our latest webinar at 10:30 a.m. on Aug. 20 will help you spot leaks and avoid expensive repairs. Even if you don't have a leak now, you'll leave this webinar prepared.
Our moderator will walk attendees through several DIY in-home leak checks and then industry will discuss professional services to locate leaks and smart in-home devices that alert property owners to leaks.
The sooner you find and fix leaks, the more water and money you save.
Click on the link to register for the webinar:  https://us02web.zoom.us/webinar/register/WN_DD-ixtFjTrmloqE_tb0zEw
For more information, send e-mail to Outreach@dwa.org or call (760) 323-4971 ext. 272.