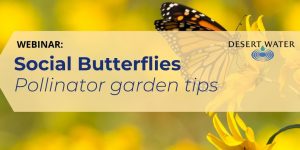 Learn all about pollinator gardens during our next webinar at 10 a.m. on March 25.
Hear from experts on the benefits of pollinator gardens and find out which plants are best for attracting birds, butterflies and bees.
Participants will also learn about DWA's pollinator garden located outside our main facility at 1200 S. Gene Autry Trail in Palm Springs. Our pollinator garden is designated as a Monarch Waystation, which provides a habitat for Monarchs as they migrate and breed.
Pollinator gardens include a variety of beautiful, desert friendly plants and are easy to create at home, school or office.
Register here for the webinar: https://bit.ly/3llTH9c
To view a previous webinar, go to www.dwa.org/virtual
For more information, e-mail Outreach@dwa.org or call (760) 323-4971 ext. 183.