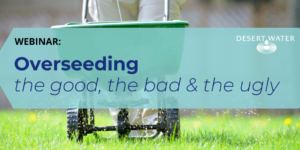 Overseeding season is upon us.
Get to know the good, the bad & the ugly of overseeding during our latest webinar at noon on Sept. 23.
Desert Water Agency and landscape experts will answer all your questions.
Do you need to reseed or overseed if you have grass? What will happen if you don't? Can you do it without racking up a large water bill?
During this webinar we will also discuss the history and best practices of overseeding in the desert.
Register here for the webinar: https://bit.ly/3lPMwWP
For more information, send e-mail to Outreach@dwa.org or call (760) 323-4971 ext. 272.