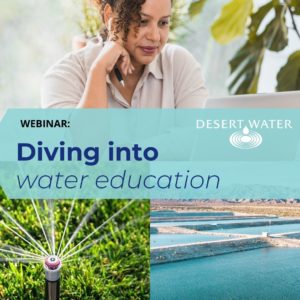 Water conservation is a way of life in the Coachella Valley.
While we benefit from a large underground aquifer that helps provide water to homes and businesses, water education and conservation is key to ensuring water for future generations.
During our next webinar "Diving into water education" at noon on Jan. 13, find out how you can learn more about our most precious resource – whether you're a student, teacher, landscaper or homeowner.
We'll dive into free water education programming and show you how to register and get involved.
Highlighted programs include:
Desert Water Agency's Conservation Education Program – for teachers, students and parents. It's an online science program designed to teach students about water and how to use it wisely.
College of the Desert's PaCE Program – provides Efficient Landscaping Certification and an Efficient Overseeding program in partnership with CVWD and CVAG. These learning opportunities are not only beneficial for landscapers, but anyone serious about having an efficient lawn and practicing water conservation.
CV Water Counts Academy – designed to help inform community members on local water issues from water quality and regulations, to sectors like golf, agriculture and cannabis. The academy is in its fifth year and is going virtual.
Register here for the webinar: https://bit.ly/34WE9BL
For more information, send e-mail to Outreach@dwa.org or call (760) 323-4971 ext. 272.