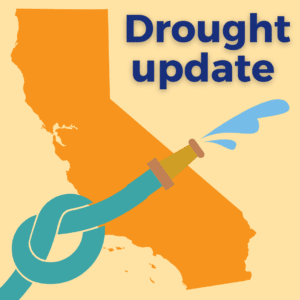 After a healthy stream of storms that filled rivers and reservoirs, Governor Newsom lifted some drought emergency restrictions. He made the announcement on Friday, March 24 on the same day as a major supply increase announcement from the state's water department.
Among the restriction roll back is the voluntary 15 percent reduction in water use for all Californian's that was issued in July 2021.  A statewide drought emergency was issued a few months later in October 2021.
In 2022, the DWA Board of Directors adopted water restrictions to comply with State regulations. These restrictions are still in effect until the State Water Board and DWA both take action. Check back for updates.
No longer in place:
Governor's directive for water agencies to be at Level 2 of their Water Shortage Contingency Plan. (The State Water Board and DWA will need to address this at an upcoming meetings)
Governor's call on Californians to cut water use by 15%
Still prohibited:
Watering so much that it runs onto the sidewalk, driveway or other non-landscape areas
Washing down driveways, sidewalks, concrete or other hard surfaces
Watering during and 48 hours after significant rain
Washing vehicles without an automatic shutoff nozzle
Using sprinklers during daylight hours (part of DWA Level 2)
Serving water to guests at restaurants, unless they request it (part of DWA Level 2)
Using potable water to irrigate non-functional or decorative grass in commercial, industrial, and institutional areas, including HOA common areas (State issued prohibition)
The drought restriction changes came on the same day that the State Department of Water Resources announced an increase in State Water Project allocations to its 29 member agencies, including Desert Water Agency.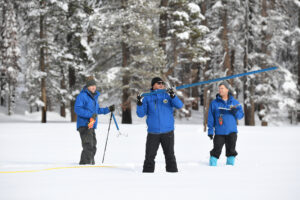 The State Water Project is California's vast water system of canals, pipelines and reservoirs that help deliver water to 27 million Californians.
DWA now expects to receive 75 percent of its requested water supplies, which is up from the 35 percent announced in February.  This increase is thanks to the series of recent storms that have dropped record amounts of snow on the Sierra Nevada mountains and help fill rivers and reservoirs.
DWA uses this imported water to replenish the water that is pumped out of the groundwater basin for customers.
While the state's water outlook has improved, California is still facing a hotter and drier future. DWA is planning accordingly and asking customers to step up and save water.
For more information on how you can help save water, go to www.dwa.org/save
For more information on drought, go to www.dwa.org/drought