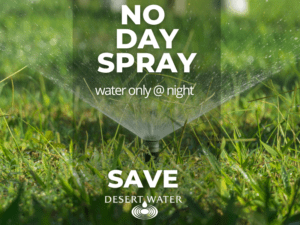 Despite the fact that local water supplies are in good condition, Desert Water Agency's Board of Directors voted unanimously today to increase water restrictions. Effective immediately:
DWA customers may not use sprinkler/spray irrigation during daylight hours
Restaurants must only serve water on request
These actions are in response to mandates from Governor Newsom and State Water Board for water agencies to enact "Level 2" water shortage plans due to statewide drought conditions. Other agencies in the Coachella Valley have, or soon will have, similar measures in place. The State also recently banned the irrigation of "non-functional turf" for businesses, governments and HOA common areas unless it is necessary to protect trees or shrubs.
DWA manages water on a long-term basis so several dry years, like we're experiencing now, don't impact the Agency's ability to deliver water to customers. The Agency plans decades ahead and takes prolonged drought and climate change into account.
Conservation actions taken during this statewide drought will benefit our community for years to come. Getting an incentive to upgrade your property is one of the best things you can do to save water.
For more information on incentives and ways to save water, go to www.dwa.org/save