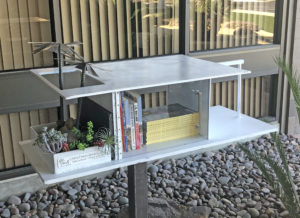 Dive into your next great read
Desert Water Agency's Little Free Library opens on Saturday, Nov. 7, National Book Lover's Day. Stop by to pick up water-themed, non-fiction, children's or gardening books.
When you're finished, return it, pass it on to another book lover or keep it for your collection. The popular, local gardening guide, Lush & Efficient, will be stocked at the Little Free Library to help locals with landscaping projects.
Social distancing and masks are required when visiting the library, which is open 7 days a week during daylight hours.
The Little Free Library is tucked directly outside our office front doors at 1200 S. Gene Autry Trail in Palm Springs. Due to our COVID-19 lobby closure, a part of the parking lot will be blocked off but don't let that discourage you from heading up to our entrance to get a book.
DWA is proud to connect our neighborhood with reading resources, especially during a time of limited social interaction.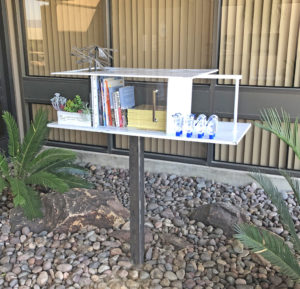 A huge 'Thank you' for making this possible to DWA board member and architect James Cioffi, and Palm Springs Welding Inc. for their pro bono work. Cioffi created the sleek mid-century design while PS Welding donated the labor and brought the design to life.
To help celebrate the launch, we're giving away a new Kindle! Follow us on Facebook (@dwawater), Instagram (@desertwateragency) or Twitter (@dwawater) to enter the contest. Check rules below for details.
Little Free Libraries is a growing movement with 60,000 around the world in 80 countries — from Iceland to Tasmania to Pakistan. Most have their own unique design fitting to their community. Each year, nearly 10 million books are shared in Little Free Libraries.
To learn more about The Little Free Library nonprofit organization go to www.littlefreelibrary.org. To find the location of other libraries click here.
For more information about DWA's Little Free Library, contact Ashley Metzger at 760-323-4971 ext.184 or Ashley@dwa.org.
CONTEST RULES
Follow DWA on Facebook (@dwawater), Instagram (@desertwateragency) or Twitter (@dwawater).
Find our Little Library social post and share (on Facebook); retweet (on Twitter); or like and tag (on Instagram) a friend who would like our new mod Little Free Library.
Each share, retweet or tag = an entry.
FIVE BONUS ENTRIES if you share a pic of yourself at the Little Library (1200 S Gene Autry Trail, Palm Springs – daylight hours).
Entrants must have a residence within Desert Water Agency's jurisdiction to be eligible to win. Prize will be shipped to any address within the contiguous United States.
Entries must be in before midnight on November 22, 2020.
One winner will be chosen on November 23.