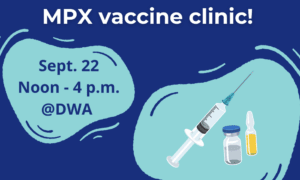 Desert Water Agency will host a Riverside County Department of Health MPX (Monkeypox) Vaccination Clinic from noon – 4 p.m. on Thursday, Sept. 22, at 1200 S. Gene Autry Trail, Palm Springs.
Vaccine supplies are limited and prioritized for people who are at the highest risk of contracting MPX and meet certain criteria. Walk-ins are welcome.
Please do not visit a vaccine clinic if you have MPX symptoms or are under isolation for MPX.
For more information on MPX and vaccine eligibility requirements, go to the RivCo MPX website here: https://www.rivcoph.org/mpx/Vaccine-Locations