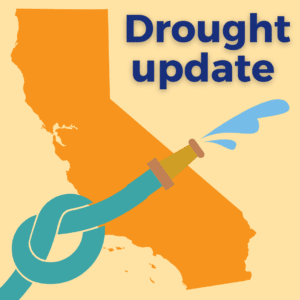 Customers are now able to water during daylight hours and restaurants can serve water to customers without a request.
On April 18, these changes were triggered by the DWA Board of Directors unanimously voting to move from Level 2 of our Water Shortage Contingency Plan to Level 1.
DWA does recommend customers still use sprinklers early in the morning or later in the evening so the water can soak into the ground and reach plants more efficiently. DWA also recommends that restaurants continue to be mindful about serving water to guests.
While some restrictions have been lifted, there are a number that DWA always enforces.
STILL PROHIBITED:
Watering so much that it runs into the sidewalks, driveway or other non-landscape areas.
Washing down driveways, sidewalks or other hard surfaces with potable water.
Watering during or for 48 hours after significant rain.
Washing vehicles without an automatic shutoff nozzle.
The State continues to ban HOAs and businesses watering decorative turf with potable, or tap, water.
Conservation is still important as California faces a hotter and drier future. In fact, 94% of DWA customers recently surveyed said that it is important to save water all the time and not just during a drought.
DWA continues to work with customers to save water. Applying for an incentive is a great way for customers to step up and save.
Go to www.dwa.org/save for more information on incentives and how to save water.
Go to www.dwa.org/drought for more information on drought and restrictions.