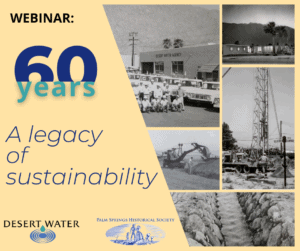 The history of water in the desert runs deep. It is filled with fascinating stories of pioneers who helped pave the way for Desert Water Agency – created in 1961 as a government agency to import and manage water.
Desert Water Agency and Palm Springs Historical Society are hosting a special webinar at 2 p.m. on September 15 to celebrate DWA's 60 years of service.
The webinar – 60 Years – a legacy of sustainability – will dive into how water has helped our desert grow and thrive, how DWA came to be and what's next for the water in Palm Springs.
Webinar presenters include:
Tom Kieley III – Palm Springs Historical Society board member and former member of DWA's board of directors for 28 years. His father served on the committee that worked to form DWA.
Steve Nichols – Palm Springs Historical Society board member and treasurer. He also served as former president of Whitewater Mutual Water Company. His grandfather, P.T. Stevens, formed the Whitewater company in 1927 to provide irrigation water to Palm Springs.
Mark Krause – General Manager of DWA since 2016. He has been at DWA for 26 years, previously serving as the Agency's Assistant General Manager and its Operations Engineer.
Desert Water Agency was formed as a special district on Sept. 15, 1961 to help replenish the underground aquifer after years of overdraft and ensure sustainable water for the western Coachella Valley.
A lot has changed since then. DWA now maintains a distribution system that includes 425 miles of pipeline, 25 reservoirs and 23 active wells – and has embraced sustainability with a water recycling plant, two hydropower plants and two solar installations.
What has not changed is our hard-working staff and dedication to sustainability and providing safe, reliable and affordable water for our customers.
Join the webinar and help us celebrate 60 years of service!
Register for the event here: https://bit.ly/3rNkMFw
For more information about the webinar, call 760-323-4971 ext. 272 or send e-mail to Outreach@dwa.org